2
Music Review
LMFAO: 'Sorry For Party Rocking'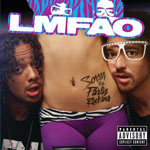 Released on Monday, Jul 18 2011
Two years after nephew-uncle duo
LMFAO
failed to set the charts alight with their noisy debut
Party Rock
, the shuffling twosome have emerged from round two in the studio with an apology… in the form of a new album. Armed with smash hit
'Party Rock Anthem'
, Redfoo and Skyblu's curiously titled
Sorry For Party Rocking
could have fooled us - though it seems the single-buying public are more than willing to accept their admission of past failings.
As 'Party Rock Anthem' went on to achieve, quite frankly, astonishing global success, it comes as little surprise that the remainder of the album fails to expand beyond the group's usual remit of Euro-club beats and au courant electro synths and squiggles. While they have more than proved their worth as a staples of the party scene in 2011, after preceding track 'Sexy and I Know It' and second single
'Champagne Showers'
, the duo's limited vocabulary - "party", "sexy" and "girlz" - quickly grows tiresome.
Will.i.am collaboration 'Best Night' - a combination of dizzying synths and thumping clap beats reminiscent of Cheryl Cole's '3 Words' - and cool, Calvin Harris-helmed 'Reminds Me Of You' serve as the record's sparse highlights of considered, decently-crafted music; ironically the rare occasions that the group relinquish artistic control. For the most part,
Sorry For Party Rocking
is another misjudged attempt to combine humour, dance and hip-hop, with their lacking vocal technique and vacuous lyrical content only dragging it down further. If this was their idea of an apology, it would have been more polite to say nothing at all.

Tracks to download:
'Party Rock Anthem', 'Best Night', 'Reminds Me Of You'
If you like this, you might like:
Pitbull, David Guetta, Calvin Harris
Watch the music video for LMFAO's new single 'Champagne Showers' below: