9
Music Review
Noel Gallagher's High Flying Birds: 'The Death of You and Me'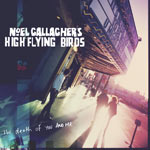 Released on Sunday, Aug 21 2011
While his brother Liam sprung out of the post-Oasis traps with the Hi-NRG
'Bring The Light'
and Lennon-aping
'The Roller'
, his big brother's path was always going to be a bit more considered. In fact, with that extra time to warm up, Noel
recently confirmed plans
to release
two
albums. Next year comes the space jazz wibbling produced by Amorphous Androgynous (aka The Future Sound of London), but first we get ten tracks of the songy stuff. Intriguing, sure, but we can't help but worry that Noely G is wimping out by both having his melodic cake and swamping it in psychedelic icing too.
None of that matters if the tunes are there, and while no-one would dare suggest it's anything approaching spectacular, 'The Death of You and Me' is a pleasant enough strummy chillout for a hazy summer afternoon. A couple of measures 'The Importance of Being Idle', a cheeky half of The Beatles' 'Being For The Benefit Of Mr Kite' and a dash of old Oasis B-side 'Underneath The Sky', it's pretty much
exactly
what you'd expect from a
Noel Gallagher
solo project. There's some classic rhyming dictionary stuff (thunder/under/wonder), but it's 15 years too late to quibble about that. No alarms and - despite some toots from a brass section at the end - very little in the way of surprises. It's all awfully
nice
, but we're hoping the track will sound a little bit bigger when it's framed by the rest of Noel's Album #1 in October.

Watch the Noel Gallagher's High Flying Birds 'The Death of You and Me' music video below: