8
Music Review
Snow Patrol: 'Called Out in the Dark' - Single review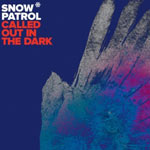 Released on Monday, Sep 5 2011
When a
Leona Lewis cover
completely blows your original song out the water, it's fair to say that you're not the most stunningly groundbreaking pop group in the world. Ever since
Snow Patrol
shrugged off their heavier beginnings for their squillion-selling
Final Straw
in 2003, they've had to dodge the 'poor man's Coldplay' tag. But what they suffered in critical disdain they more than made up for in sales, and the band consolidated their (stadium-filling) position with best-of
Up to Now
a couple of years ago.
That compilation featured a clumsy grope at synthpop with tedious lead single
'Just Say Yes'
, but this trailer for
new record
Fallen Empires
is a much more successful hybrid. An almost Pixies-esque intro plugs the band back into their rockier roots and as the song kicks in proper, the futuristic shimmer works with 'Called Out in the Dark', rather than against it. Better still, in place of whiny lyrics about love and loss are some fab ravey sentiments ("Show me now, show me the arms aloft / Every eye trained on a different star / This magic / This drunken semaphore"). A promising new beginning?

Watch the Snow Patrol ''Called Out in the Dark' music video below: