8
Music Review
JLS: 'Jukebox' - Album review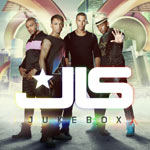 Released on Monday, Nov 14 2011
A handful of number one singles, a string of sold-out tours and a third album equals
JLS
becoming
the
success story from
The X Factor
. But with big expectations to live up to and even bigger competition in the form of The Wanted and One Direction, is their latest effort
Jukebox
enough to cement their status as the UK's premier boyband?
Summer cut 'She Makes Me Wanna' heads up the set with RedOne-helmed Euro-club beats, while seasonal follow-up 'Take A Chance On Me' is a heart-warming slice of R&B sweet-nothings. In keeping with JLS's strict annual criteria, the remainder of the record continues to evoke the group's own mix of street-wise uptempos and swoon-worthy ballads.
'Do You Feel What I Feel?' satisfies the guys' penchant for sampling a classic by retweaking a Bing Crosby hit to suit their 18-30's party lifestyle, while 'So Many Girls' hears them scouting dancefloors to find 'the one' over a familiar-sounding chorus straight from the '90s - complete with a cheeky nod to B*Witched. That said, there's a liberal sprinkling of duff notes to be found among the party anthems.
'3D' is a techno-snooze affair with predictable lyrics ("I'm going to turn you on like a TV") and 'Shy Of The Cool' is a pan-flat composition of sullen strings that closes the record with the kind of enthusiasm felt before a maths GCSE exam. Unfortunately, the final result is much the same; while the record has its full-marks pop ditties, the majority leaves you feeling that JLS could have put in a little extra revision time.

Tracks to download:
'She Makes Me Wanna', 'So Many Girls', 'Do You Feel What I Feel?'
If you like this, you'll like:
Jason Derulo, Iyaz, Chris Brown
Watch the music video for 'Take A Chance On Me' below: