4
Music Review
DJ Fresh ft. Rita Ora: 'Hot Right Now' - Single review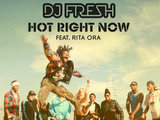 Released on Sunday, Feb 12 2012
We feel for
DJ Fresh
. When your previous single becomes one of the biggest anthems of the summer, the pressure to continue the pace with a worthy follow-up - in
February
no less - is more than likely a harrowing prospect. Particularly when your stage name promises something new, original and exciting that sets itself apart by bucking the current chart trends.
Judging by the results of his latest track, we assume that the burden became all-too-great. Yes, the head-spinning breakneck beats and fuzzy basslines are impressive, as are the efforts of rising Roc Nation-signed guest singer Rita Ora, but there's something lacking here that made
'Louder'
the hit that it was. Our suggestion? Lyrics such as "Turn it up right now/ Put your hands in the air if you want it right now" can't be doing him many favours.

Watch the 'Hot Right Now' music video below: