3
Music Review
Paloma Faith: '30 Minute Love Affair' - Single review
Released on Sunday, Aug 12 2012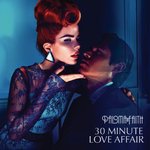 "I'll never forget it, our 30 minute love affair,"
Paloma Faith
sings wistfully on the chorus of her new single. You'd be forgiven for thinking that she was alluding to something much seedier than she really is, particularly given the setting of Soho's red-light district for the accompanying music video. Fortunately, further investigation quickly tells otherwise.
"He was so beautiful there in my dreams/ I left my heart and my memories," she continues over propelling '80s-style synths as she tells the story of a fleeting moment with a London busker when she was a teen. "It was best when we left it/ I'll never forget it," she assures on the Cyndi Lauper-meets-
Drive
chorus, and given how far she's come since then, we suspect he won't either.

Watch the '30 Minute Love Affair' music video below:
>Read Digital Spy's review of Fall To Grace