1
Music Review
Green Day: 'Dos!' - Album review
Released on Monday, Nov 12 2012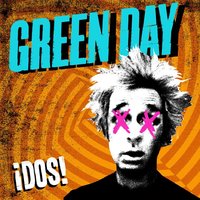 The hardest part of a trilogy is often the middle instalment. Sometimes the added pressure results in it being the best piece of work, while other times its sole purpose as a continuation leaves it feeling incomplete in its own entity.
Green Day
began their trio of new albums with bombast and ambition on
Uno!
, but does follow-up
Dos!
keep up the same thrilling pace?
The melancholy loneliness of Billie Joe Armstrong on album opener
'See You Tonight'
begins proceedings with a slower stride than expected, but just over a minute later
'F**k Time'
bundles in with pounding beats, jive guitar riffs and a '50s-flecked sing-along chorus. The record's proper firestarter is packed full of rock 'n' roll prowess and tongue-in-cheek lyrics the threesome have built a successful career on.
Green Day march through the remainder of the album with pacey, '90s garage-rock anthems, including
'Stop When The Red Lights Flash'
and
'Makeout Party'
- bringing together stadium-ready guitar riffs and crowd-pleasing chants. New single
'Stray Heart'
bops along with retro bounce, while
'Wild One'
is a swaying ode to a girl who "gave up on Jesus, for living on Venus".
Save for snooze-inducing
'Nightlife'
,
Dos!
remains tenacious, witty and focussed throughout. Ear-snagging melodies, Billie Joe's punk-pop, American twang and some blowout moments that are crying out for a festival crowd make it another solid collection. More importantly, it serves its purpose of keeping us suitably excited for the final chapter.

Tracks to download:
'Stray Heart', 'F**k Time', 'Makeout Party'
If you like this, you'll like:
blink-182, My Chemical Romance, Sum 41
Listen to Green Day's new single 'Stray Heart' below: