3
Music Review
Green Day: 'Tré!' - Album review
Released on Monday, Dec 10 2012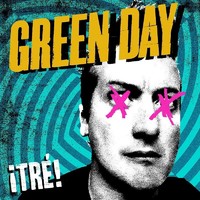 There should always be an air of suspense surrounding the final part of any trilogy. Having invested time in the previous two instalments, one would expect the final send-off to be full of surprise twists, big action and a satisfactory conclusion. Sadly, it's the distinct lack of these very factors that leave
Green Day
's latest album
Tré!
feeling disappointingly lacklustre in places. The set begins with the sombre rock-a-bye guitars on
'Brutal Love'
- and for the most part, that's as exciting as it gets.
Follow-on tracks
'Missing You'
and
'Drama Queen'
contain their usual growly guitar riffs and even more melancholy. It's not necessarily a bad thing, but plod-along drums and downcast lyrics subdue any enthusiasm for the blowout ending we were expecting; and by the time we get there with pulsing rock anthems
'Dirty Rotten Bastards'
and
'99 Revolutions'
, it's too little, too late. While
Uno!
began the campaign with knife-sharp quips and
Dos!
gave us garage-jive and festival-ready chrouses,
Tre!
- the last we suspect we'll be hearing from them for a while - leaves them sounding worn-out.

Tracks to download:
'99 Revolutions', 'Dirty Rotten Bastards'
If you like this, you'll like:
Blink-182, My Chemical Romance, Sum 41
Watch the trailer for
Tré!
below: