0
Music Review
Palma Violets: '180' - Album review
Released on Monday, Feb 25 2013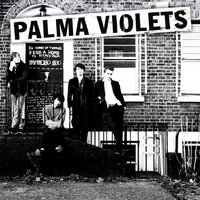 Even if this whole
'guitar rock resurgence'
thing
is
just
a bunch of bulls**t
, it's
Palma Violets
who've been made responsible for piloting indie's comeback, and it's this very album of theirs that's therefore such an intriguing listen. Last October's debut single
'Best of Friends'
, in fairness to the hype, was so good it should have made The Vaccines singer Justin Young an even more insecure teenage icon than he already was… and it's those jumped-up rumbles and rat-a-tat rhythms that
180
confidently opens with. What's bugging, though, is that 'Best of Friends' is still far and wide the greatest moment on here.
The dewy-eyed
'All the Garden Birds'
steadies along via the downright tuneful sweat of keyboardist Peter Mayhew, and when
'Chicken Dippers'
assailing pitter-patters stage singer Sam Fryer's puppy love ("You make me feel like I'm the only one"), it's charming. However, what these plainly aren't are killer gems to last a lifetime.
'Rattlesnake Highway'
is beautifully unrehearsed just like The Libertines (with added Doherty-type screeches), but it's almost
too
like The Libs to be taken seriously.
'I Found Love'
, though, is the kind of melancholy Palma Violets should trademark; echoey guitars drown Fryer's daydreams ("I'm gonna find myself a lady friend, stick by her until the end") and it sounds awesome. More of this, and we can talk.

Tracks to download:
'Best of Friends', 'Chicken Dippers', 'I Found Love', '14'
If you like this, you'll like:
The Libertines, The Cribs, The Clash
Watch Palma Violets' 'Best of Friends' video below: