1
Music Review
Yeah Yeah Yeahs: 'Mosquito' - Album review
Released on Monday, Apr 15 2013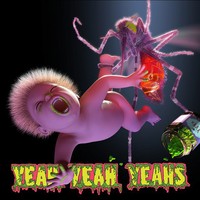 Ten years on, the
Yeah Yeah Yeahs
' debut
Fever To Tell
makes for an intriguing listen. That it still explodes from your headphones with the same delirious snotty, distorted punk energy is no surprise. What does shock is that its emotional resonance has barely diminished. After that burst, the band stumbled through the too-trad
Show Your Bones
before making up plenty of lost ground with the crossover dancefloor fun of
It's Blitz
.
On
Mosquito
, Karen O, Brian Chase and Nick Zinner draw all of that experience together for their most diverse record to date. We go from the minimalist metro chug of
'Subway'
and teary this-love-means-
everything
melodrama of
'Wedding Song'
("You're the breath that I breathe") to the offensive squall of the title track, pitched nicely between The White Stripes' 'The Hardest Button To Button' and Patti Smith's 'Banga' in its relentless one-note rock bludgeoning of your guts.
Kool Keith (aka Dr Octagon) steps in for
'Buried Alive'
, but rather than being an
embarrassing or cynical attempt in genrecrossing
, the James Murphy-produced track is a proper melding of styles that neatly showcases Keith's laidback flow alongside Karen's own vocals. The centrepiece is
'These Paths
- Dave Sitek's spacey sex möbius echo ("These paths we'll cross again, again / These pants come off against, against") that has an argument for being the best Yeah Yeah Yeahs song to date.
Things do peter out slightly over the last quarter of the album with a clutch of slower songs that perhaps may grow in time, but there's enough to more than make up for that. On the twiddly guitar gospel squeal of opener
'Sacrilege'
, indie doom of
'Slave'
and sci-fi riffathon of
'Area 52'
, the YYYs have never sounded this assured and confident in their abilities. We'll even forgive what has to be the ugliest record sleeve of recent times.

Tracks to download:
: 'These Paths', 'Subway', 'Area 52', 'Sacrilege'
If you like this, you'll like:
Bloc Party, Primal Scream, Mazzy Star
Watch the Yeah Yeah Yeahs - 'Mosquito' full album preview and interview below: