32
Music Review
Rihanna: 'Take A Bow'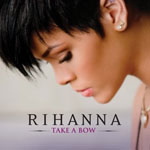 Released on Monday, May 19 2008
Ah, decisions, decisions. Seeking to nudge sales of her
Good Girl Gone Bad
album past the 5m mark, what should
Rihanna
do?
A.
Give 'Breakin Dishes', a surefire smash from the album, a belated crack at the singles chart.
B.
Reissue the album with a new song written by Ne-Yo, the R&B hitmaker who also penned 'Unfaithful' and
'Hate That I Love You'
.
Sadly, as you've probably guessed by now, the Bajan pop princess chose option 'B'.
So, Ne-Yo once again imagines Rihanna as a balladeer rather than a booty-shaker, getting her to play the wronged woman over a smooth, elegantly-constructed R&B backdrop. "You're so ugly when you cry," she sneers, sounding a little bit angry but, as ever, mainly rather bored. 'Take A Bow' does what it sets out to do very well, but it's an underwhelming follow-up to the dancefloor rush of
'Don't Stop The Music'
.

> Click here to watch the 'Take A Bow' video