21
Music Review
Chris Brown: 'Forever'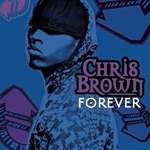 Released on Monday, Jun 16 2008
Kelly Rowland did it, Rihanna's just done it, now
Chris Brown
's having a go. What are we talking about? The repackaged album, of course! Simply make a new cover, stick on a couple of bonus tracks and - ta-dah! - you've got a new LP at a fraction of the usual cost. Following on from the success of his top ten hit
'With You'
,
Exclusive: Forever Edition
should help Brown cash in on the UK's sudden interest in his silky R&B grooves.
Sadly, re-released records tend to result in dodgy bonus material and sub-standard singles, and Brown is unable to buck the trend here. Listening to 'Forever' is a pleasant enough experience, but this track never truly sparks into life or finds its own identity. The Euro-beat synths will probably get your toes tapping and the excessive vocoder effects are vaguely interesting, but this isn't a patch on recent singles from Brown's girlfriend, the lovely Rihanna. The problem? Ultimately, his style is a bit hard to distinguish from Usher, Ne-Yo and the rest of the current crop of American male solo artists.