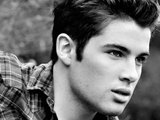 Last year's
X Factor
contest was, at times, a bit like watching an Attenborough documentary on survival of the fittest, but
Joe McElderry
's win proves that nice guys don't always finish last. In fact, they sometimes
win
. With the live stages of the current series imminent, the singing Geordie sweetheart with the gleaming white dentures and cute barnet - no, not you, Cheryl - has his debut album ready and a cracking lead single, 'Ambitions', to kick things off. So, after a year beavering away in the studio, is Joe still as hungry for success? We met up with him last week to find out.
Are you pleased with the response to 'Ambitions' so far?
"I'm so excited about this song and I'm overwhelmed by the response! I think a few people are shocked, but it was the shock that I hoped people would have. I wanted people to think, 'Who on earth is this?', rather than just come out with something predictable. The song's marked my own progression as an artist too, so I'm grateful for the positive feedback."
Has Cheryl given it the thumbs up yet?
"She was listening to the radio when it was having its first play, but she was also filming Judges' Houses for
The X Factor
, so I think she missed it. She was excited though - she called me in a panic saying 'I'll text you as soon as I hear it!'. We're due a good catch-up soon actually because we haven't seen each other in ages. I love her new single too - 'Alouette-ouette-ouette!'"
Are you pleased with the music video?
"Very happy - it's a happy video! I'm always smiling and I wanted the video to represent that. I also
finally
got to do a dance routine, which I was really pleased about because I'd been begging for one for ages. Hopefully I'll be able to do it when I perform on
The X Factor
, although it's quite punchy which could cause microphone issues! I'll definitely be doing some dancing though."
The single's a cover of a relatively unknown song by a Norwegian band called Donkeyboy. Who discovered it?
"It obviously wasn't an intentional thing for the first single to be a cover, but I don't think it's a particularly bad thing. They're not known here and it's such a feel-good track - it was the first one throughout the whole recording process that made me sit up in my chair and think 'Wow'. Someone from the label played it for me to see if I'd be interested in that style of music, and as soon as I heard it I wanted to record it immediately!"
You sing most of the song in falsetto - is that difficult?
"It is high, isn't it?! I thought it would be really hard, but it's actually not too bad. It's a fast song, and quite punchy, and the rhythm makes it easy to keep your voice up there. The song isn't too up and down vocally either which certainly helps! It's not the easiest song in the world to sing live but I'll give it my very best."
You've said 'Ambitions' changed the entire album's direction. What was it originally?
"We were going for slow and midtempo songs if I'm honest. It was this song that took things in a more fresh, fun and feel-good direction. There are still some ballads on the album, but I'd say the overall sound is really fresh - nothing too deep. The ballads on there aren't heavy."
Will 'Don't Stop Believin' feature on it?
"It's not on there, but I was considering recording it for the album. I definitely would have, because it's another feel-good song and everyone loves it. In the end we decided not to because I know that I'm always going to perform it live, so we didn't really see the point."
Was it difficult finding your own sound?
"I actually loved it. At first we tried loads of different things and nothing was particularly grabbing me, but since 'Ambitions' it feels like it's all clicked into place, and ever since I've been buzzing in the studio. I didn't want to come out with something that everyone was expecting, and I wanted to distinguish myself from previous male
X Factor
winners."
Because you have a wide-ranging fanbase, was it tricky making an album that would appeal to everyone?
"Obviously I wanted to put out an album that would please my target audience, so we were conscious to put something for everyone on there. In fact, we looked at each track on the album individually and talked about which age groups it would appeal to. It was something we were aware of from the beginning, so hopefully we've managed to get the right balance."
You've performed an acoustic mash-up of 'Love The Way You Lie' and 'Try Sleeping with a Broken Heart'. Does that sound figure on the album at all?
"I love singing acoustically, and eventually I'd love some of my music to go that way. A couple of weeks ago, when 'Love The Way You Lie' was really big in the charts, I was keen to give it a go, but obviously I can't rap. I was praying that Rihanna would release a 'broken down' version like Alicia Keys did with 'Empire State Of Mind', but she didn't so I had to find another song! It took ages to find one that would fit with the melody but I love the way it turned out."
What songs should we look out for on the album?
"I can't tell you any track names yet, but I have got a favourite. It's uptempo but it's kind of a big ballad at the same time. Every time I hear it I get so excited and it's the one song I can't wait to perform live! I promise to tweet it when I'm allowed to say the title."
There have been rumours that you've been meeting with Disney in the US. Are there plans to release the album over there?
"There is something going on, but it's still very early stages at the moment, so I can't say what it's about. It's a really exciting project though - and if it comes off it will be amazing. It's not necessarily with Disney though. I'd love to take my music to the US, but the focus for now is the UK."
Do you feel any pressure to live up to the recent X Factor successes?
"There's a huge amount of pressure, but I seem to thrive off it. I get a real buzz from the uncertainty of what can happen on stage and how people will respond to my music. I actually miss performing every week on
The X Factor
because the rush of excitement you get from it is incredible - nothing can top it."
Are you watching the new series?
"I think it's going to be a really interesting year. I love Cher, Paije and Marlon, but you have to wait for Judges' Houses before you get a sense of who the real stars are. Having said that, those guys seemed to find their feet at Boot Camp, whereas I was completely hopeless during that stage. I forgot the words to my song but managed to pull it off without anyone realising!"
Are you still in touch with people from the last series?
"I speak to Olly, Rachel and Lucie a lot, but it's really hard to see everyone because they're all so busy. We will all definitely meet up though - we were so close on the show that we're practically a family. I'm so excited to go back on there - I want to give the contestants the same sort of advice I was given by Alexandra. Oh, and a massive hug of course, because that used to sort me out nicely before getting up on stage!"
'Ambitions' is out on October 11. The album Wide Awake, follows on October 25.