Reality TV News
Alexandra Burke beats Robbie Williams to No.1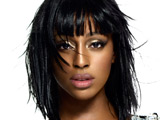 Alexandra Burke
has beaten Robbie Williams to the top of the UK singles chart.
'Bad Boys', her collaboration with US rapper Flo Rida, sold 187,100 copies last week to become the fastest-selling single of the year so far.
Burke, 21, also reached the top with her
X Factor
winner's song - a cover of Leonard Cohen's
'Hallelujah'
- last December.
Williams has to settle for second position after selling 89,238 copies of 'Bodies', which duly becomes his 27th top ten hit since embarking on a solo career in 1996.
Last week's number one, 'Oopsy Daisy' by Chipmunk, falls to three, while Taio Cruz holds steady at four with former chart-topper 'Break Your Heart'.
Meanwhile, Michael Bublé scores his first top ten single after debuting at nine with 'Haven't Met You Yet'.
The top ten singles in full (click for our reviews):
1.
(-)
Alexandra Burke ft. Flo Rida: 'Bad Boys'
2.
(-)
Robbie Williams: 'Bodies'
3.
(1)
Chipmunk: 'Oopsy Daisy'
4.
(4)
Taio Cruz: 'Break Your Heart'
5.
(3)
Jay-Z ft. Alicia Keys: 'Empire State Of Mind'
6.
(8)
Black Eyed Peas: 'I Gotta Feeling'
7.
(7)
Shakira: 'She Wolf'
8.
(2)
The Saturdays: 'Forever Is Over'
9.
(-)
Michael Bublé: 'Haven't Met You Yet'
10.
(5)
David Guetta ft. Akon: 'Sexy Bitch'
Source: Official Chart Company
> Click here for this week's top ten albums