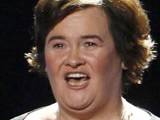 Susan Boyle
has unveiled the tracklisting for her
debut album
.
I Dreamed A Dream
from the
Britain's Got Talent
runner-up will be released in the UK on November 23 and will be available in the US from the following day.
Boyle said: "It was my greatest ambition to release an album and I have finally achieved it.
"This amazing journey has helped me find my own identity and fulfil my wish. There is happiness out there for everyone who dares to dream."
The album features 11 cover versions and one new song, 'Who I Was Born To Be', written especially for Boyle.
The full tracklisting is as follows:
'Wild Horses'
'I Dreamed A Dream'
'Cry Me A River'
'How Great Thou Art'
'You'll See'
'Daydream Believer'
'Up To The Mountain'
'Amazing Grace'
'Who I Was Born To Be'
'Proud'
'The End of The World'
'Silent Night'