Reality TV News
Hollie Steel unveils debut album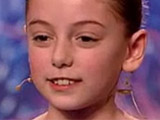 Hollie Steel
has announced the details of her debut album.
The 11-year-old singer came sixth in last year's
Britain's Got Talent
final, which she reached after being given a
second chance
in her semi-final when she forgot her words and broke down in tears.
Hollie
is released through BB5 Records on May 24 following an album launch at London's Round House Theatre on May 19.
Steele said: "I loved recording my album, I'm very excited everyone will hear me sing my favourite songs."
Her mother Nina recently criticised the producers of
Britain's Got Talent
for their alleged lack of support.
The full tracklisting of the album is as follows:
1.
O Mio Babbino Caro
2.
Edelweiss
3.
Come To My Garden
4.
I Could Have Danced all Night
5.
Nessun Dorma
6.
The Music Of The Night
7.
Wishing You Were Somehow Here Again
8.
Ave Maria
9.
God Help The Outcasts
10.
Panis Angelicus
11.
Hushabye Mountain
12.
When She Loved Me
13.
These Eyes Of Mine