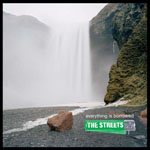 When
Mike Skinner
emerged from the UK garage scene in 2001 with his distinct Brummie twang and tales of working-class hedonism, he offered a refreshing alternative to the bling and bravado of US hip-hop. The albums that followed his startling debut,
Original Pirate Material
, may have shown his softer side, but his improved musicality and smart wordplay made them essential listens.
'Everything Is Borrowed', the title track from album number four, heralds a distinct shift in tone for the 29-year-old. Skinner calls the album a "peaceful, positive" affair – a description that also fits this single, which spreads the message that possessions are meaningless and all you need is love. It's basically 'Imagine' for the hoodie generation, and it's as bizarre and awkward as that summary suggests. Skinner's monotonous vocals don't gel with the hippy sentiments, while the rumbling beats smack of laziness. A disappointing return for an artist whose CV proves he can do so much better.

> Click here to watch the 'Everything Is Borrowed' video