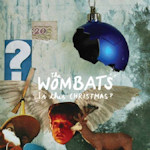 We imagine that Christmas with
The Wombats
is quite a messy affair. It probably involves stealing grandma's sherry, scoffing enough Quality Street to make you feel icky and a drunken game of twister with your Auntie and Uncle. Now, helpfully providing a raucous, inebriated alternative to the
X Factor
winner's song, the Scouse trio have captured these japes in a near-perfect Christmas romp.
With lyrics about mums burning turkeys, repeats of
Back To The Future
and downing red wine, 'Is This Christmas?' isn't your average festive cash-in. The darkly comic references to "extending into the overdraft" ring more true than any tale of 'Frosty The Snowman', while the band's signature guitar jangle adds to the general air of festive frivolity. Like a juicy orange in a stocking filled with coal, The Wombats stand out in a Christmas market filled with lazy TV spin-offs and novelty releases.

> Click here to watch the 'Is This Christmas?' video