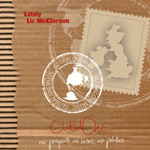 The "one who stands at the back" in Atomic Kitten, a runner-up on reality TV flop
Celebrity Love Island
and a part-time celeb chef,
Liz McClarnon
is one of the UK's strangest popstars. Without much discernible musical talent or particularly striking looks, she has seemingly managed to establish a lengthy career off the back of her fundamental niceness and game-for-anything attitude.
'Lately', her third stab at solo stardom, is part of something called the Global One Project - an attempt to unite "musical legends from 20 countries and five continents" on one album. McClarnon reckons the song sounds like Atomic Kitten's 'Whole Again' and she isn't far off the mark. A light, fluffy pop ballad featuring bizarre rap interludes from newcomer Jaime Jay, it could pass for a filler track from
Now That's What I Call Music! 42
. Like McClarnon's previous solo efforts - anyone remember '(Don't It Make You) Happy'? - this is forgettable at best.