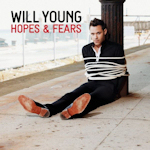 It's been said many a time before, but that doesn't mean it's not worth saying again... hasn't the boy done well? Since winning
Pop Idol
seven years ago,
Will Young
has released four studio albums, notched up 12 top 40 hits and never had to call anyone from
Dancing On Ice
,
Hell's Kitchen
or
Celebrity Cash In The Attic
back. Now he's receiving the popstar equivalent of the Sterling Service badge - his own 'Best Of' comp.
'Hopes And Fears', the obligatory trailer single, offers ample evidence why he's made it this far. Sounding like a great lost track from Annie Lennox's
Diva
album, it's a lushly-produced midtempo pop song with lyrics about a relationship that's hitting the skids. "Baby, looks like we're no good, you don't take care of me like you should," Young sings with his usual winning warmth. As with many recent Will singles, the words that best describe it – classy, adult, sophisticated – could also be used in an advert for a high-end sex shop, but since when has that been a bad thing?