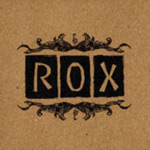 Earlier this week, the BBC revealed the
longlist
for its Sound of 2010 award. Nestling alongside the hotly-tipped likes of Marina and the Diamonds, Everything Everything and Ellie Goulding was half-Iranian, half-Jamaican Londoner
Rox
. The young singer-songwriter - known to her mother as Roxanne Tania Tataei - has some incredibly hip credentials. She's signed to indie's indie Rough Trade and, digital versions aside, this debut single is coming out on the classic 7" vinyl format. But is it actually any good?
It's certainly not bad. While it would be easy to lump Rox in with Adele, Duffy and Amy as part of the ongoing soul revival and instantly forget about her, she shows more than enough promise on 'No Going Back' to keep you interested. There's a twinge of melancholy to her beautiful vocals and organic vibrancy to her music that places her closer to the quirky likes of Paloma Faith and Noisettes than the rest of the '00s soul crew. It's hard to see her winning the BBC gong ahead of her more modern-sounding competition, but with an album,
Memoirs
, due out next year, it's easy to see her keeping the buzz going with this curiosity-piquing debut.