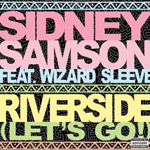 Who? Featuring Who? And what riverside are we being cajoled into visiting? Well, if you're sitting quite comfortably, allow us to explain.
Sidney Samson
may sound like a lovable rogue type from
EastEnders
, but he's actually a Dutch DJ whose signature club hit, 'Riverside', has been given a radio-friendly vocal mix by New Yorkers Wizard Sleeve.
The result, rather dishearteningly, is on course to become the first new No.1 of the teenies. To be fair, Samson's beats are crisper than a soldier's collar, but there's a crippling lack of tune here and the rapping runs the gamut from the crass ("Jack the club, no jack and coke") to the crude ("I got a chick to bang") to the crap ("We must do subtraction of your clothes"). If your New Year's resolution is to listen to less boorish, soulless dance music, our advice would be to keep away from the... wait for it... 'Riverside'.

> Click here to watch the 'Cruel Intentions' video