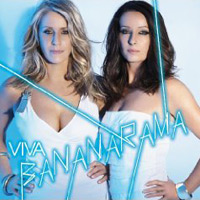 It's a little-known but 100% certifiable pop fact that anyone who rolls their eyes at the
Bananarama
comeback is boring. Last single 'Love Comes' may have charted at a lowly number 44, but you'll be hard-pushed to find a spot on the dancefloor next time it's played at your local gay establishment. Now, on the second single from their somewhat nostalgic
Viva
LP, Sara and Keren are pushing out another synth-pulsing three-and-a-bit minutes of pure, unashamed dance-pop.
'Love Don't Live Here', like everything on the album, finds the girls teaming up with Ian Masterson - a knob-twiddler whose CV includes plenty of Dannii Minogue and Geri Halliwell, so the pop spods among us will know
exactly
what they're getting before they've even heard it. After the dramatic, opera-style opening - complete with sinister strings section - the track swiftly becomes a neat little disco ditty with a hint of the Freemasons to it. It's a bit like your favourite drag act - camp, not massively original and impossible to resist after a pitcher of Sex On The Beach.

> Click here to read our review of Bananarama's Viva album