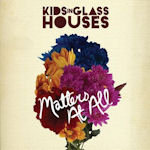 South Wales has developed a knack for turning out shouty/riffy/emotional rock bands in recent years. Pontypridd gave us Lostprophets, Bridgend Funeral For a Friend and Bullet For My Valentine, and hot on their heels come Valley boys
Kids In Glass Houses
. Though not a household name yet, they picked up something of a devoted following with their early EPs and 2008's top 30 debut album
Smart Casual
- and their profile looks likely to grow with this second trailer from follow-up set
Dirt
.
Like last year's teaser 'Young Blood (Let It Out)', 'Matters At All' features that neat mix of clean riffage and massive hooky choruses we've been missing since Hundred Reasons fell off the radar screen. It could do with some more punch, though, and the verse/chorus, quiet/loud, singy/shouty thing always sounds better when you're bouncing round a sweaty toilet club with plastic pint cups crunching underfoot. You can't imagine Saturdays fans joining the growing hordes of followers just yet - despite
Dirt
featuring a somewhat unlikely Frankie Sandford
collaboration
- but a top ten placing for said album should be a mere stone's throw away.