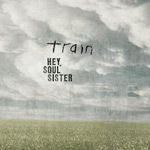 'Hey, Soul Sister' has already sold more than three million across the pond. Three
million
. Not only is it a serious smash stateside, but it's also topped the charts in Ireland and Oz before finally getting a UK release. The lead single from
Train
's comeback album,
Save Me, San Francisco
, it supposedly heralds a return to the band's roots after the (relative) commercial setback of
For Me, It's You
in 2006. It's a slice of competent, folksy pop/rock that isn't so much radio-friendly as radio-stalking in its inoffensive catchiness. It's so inoffensive, in fact, that it really begins to grate after a handful of plays.
It twangs, it twiddles and it twaddles by in just over three-and-a-half generic minutes of meh... with a ukulele riff. The lyrics are so amusingly terrible that even Noel Gallagher at his most "will-this-rhyme" lazy would have blushed and scribbled them out. A couple of pop references are especially clanging, with "Hey soul sister, ain't that Mr. Mister on the radio" just about beating "I believe in you/ Like a virgin / You're Madonna" for sheer awfulness. It'll probably be in the top ten before you've finished reading this.