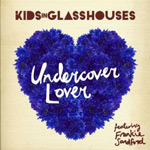 On which the Welsh rock five-piece still awaiting that all-important breakthrough hit are so desperate to sound like McFly that they even rope in Dougie's girlfriend to provide guest vocals. Actually, that's a little bit mean – and 'Undercover Lover' sounds more like Busted anyway.
Co-produced by Jason Perry – guess which cheeky guitar-pop combo
he
's previously worked with! - 'Undercover Lover' is a glossy-as-Frankie's-locks pop-punk nugget with the most shameless final minute key change that Bon Jovi never wrote. As for Sandford, well, she has lots of fun swapping lines with Houses frontman Aled Phillips here - and why wouldn't she? This is catchier than anything she got to sing on the last Sats album.

> Click here to watch the 'Undercover Lover' video