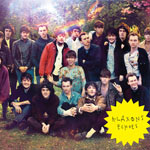 It's always slightly terrifying when a band utters the "C" word, so when bassist / songwriter Jamie Reynolds
suggested
that
Klaxons
were perfecting their "craft" while recording their second album, it was a definite cause for concern. Had the band who created (and disowned) nu-rave chucked away the glowsticks and hooks that made standing still to 'Golden Skans' and 'Atlantis To Interzone' completely impossible in spite of yourself? Had a group so painfully hip it was always hard to (secretly) enjoy them gone the whole hog and added a whiny po-facedness to their silly clothes and haircuts?
The answer, thankfully, is most certainly not. Sure, 'Echoes' is much more gently-layered than their earlier singles, which is probably the influence of new producer Ross Robinson. The former doyen of nu metal densely packs in waves of guitar and drones into the Klaxons sound and despite
almost
sounding like something from Keane's second album at times, it's a fit that just about works. However, man cannot live by drones alone, and there's also a neat hook which is more-than-a-bit reminiscent of the chorus from Delphic's single
'Doubt'
pulling the whole thing together. 'Echoes' hints that after all the
back-and-forths
, Klaxons may well have (ahem) crafted a promising second album.

> Click here to watch the video for 'Echoes'