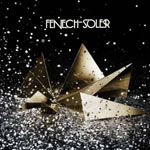 Scissor Sisters, Pet Shop Boys, Bananarama... call us kooks, but we're suckers for an ear-snagging band name - and while the moniker "
Fenech-Soler
" doesn't exactly roll off the tongue, at the very least it sounds intriguing and trendy as a Dalston haircut. Not convinced? Well, the group's own description of this breakthrough single - "electropop with a nasty side" - should pique your curiosity.
What's more, the Northamptonshire four-piece aren't ones to mislead. 'Demons' dresses its intense tale of longing ("I'm the wound / You're the drug to ease my pain") in sparkly-but-classy clobber - call it the black sequinned cocktail dress of dance-pop. The band name might come off - dare we say it -
snobby
, but no-one's going to feel left out when the all-consuming chorus hits.