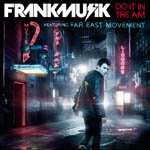 When we spoke to
Frankmusik
last month, he told us that his new single had a "
dubstep freakout section
at the end". Given the eclectic sound of his debut LP we weren't entirely shocked by the news, but seeing as he's now signed to Californian clique Cherrytree records, we were expecting it to be more Britney's 'Hold It Against Me' than Chase & Status's 'Blind Faith'.
Thankfully, it's a little of both. "Play me like your favourite song/ Lick it up/ Drink tequila 'til it's gone," he insists over glossy beat and gently pulsating synths, before electro-hop quartet and labelmates Far*East Movement join him on a catchy-as-coldsores chorus where they brag about their ability to party non-stop. The result is slicker, poppier and more polished than Frank's previous efforts, or as he put it to us, "Less London and more global". Let the takeover commence.