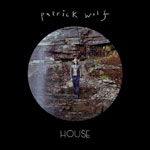 Patrick Wolf
wasn't kidding when he said his new material would be a "cleaner" and more "romantic" affair. Known for his flamboyant musicianship and challenging lyricism, he's insisted that his chart-friendly approach to music this time around is not an attempt to gain popularity - though even if it were, we have to admit that we're thoroughly enjoying his more accessible pop-infused melodies.
"That I love that here you live with me/ Gives me the greatest peace I've ever known," he croons over an orchestra of floating strings, Abba-inspirited piano chords and earthy chimes - culminating in a whimsical crescendo of folk-tronica bravado. "Cause I've been too long a lonely man/ Yes I've been too long a rolling stone," Pat reflectively quips. With
Lupercalia
on course for a personal chart best, we suspect before long that he'll be craving solitude once again.

Watch Patrick Wolf's 'House' music video below: