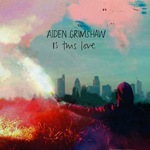 One has to be careful when ridding themselves of their
X Factor
tag. Discredit the show entirely and it will almost certainly blow up in your face (see
Matt 'Credible' Cardle
), but embrace it too heavily and your reliance on the programme will result in a short-lived career. The task is doubly hard for
Aiden Grimshaw
who, after finishing ninth in 2010, should for all intents and purposes be found in the has-beens pile somewhere between TreyC Cohen and Nicolo Festa.
Almost two years later, and he appears to have achieved the seemingly impossible. For those who remember his rendition of
'Mad World'
, the haunting and intensity levels have been dialled up a few more notches here as he struggles to deal with a difficult breakup. "The air is moving around me, but I can't breathe," he admits over a gritty and hectic melody of plinky synths and hardline D&B. For a man with dark problems, he makes this post-
X Factor
malarkey look remarkably simple.

>Read Digital Spy's interview with Aiden Grimshaw
Watch the 'Is This Love' music video below: