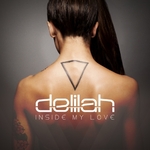 Reworking a club classic isn't something we'd normally recommend to a new artist. That said,
Delilah
has already proven her ability to put her own spin on a well-known hit without destroying it in the process on last year's 'Go', which used bits 'n' pieces of Chaka Khan's 'Ain't Nobody' with dark and haunting results.
'Inside My Love' pulls a similar trick, pilfering Minnie Riperton's '70s soul-groove number, which in itself was sampled on Jean Jacques Smoothie's dancier '2 People' in 2001. Delilah's version falls closer to original in terms of BPM, but the effect is strikingly different. "Two people, just beating, barely touching each other," she sings over minimalist beats and barely there electronics with aching lust. The result, we suspect, would cause even Minnie herself to blush.

Watch the 'Inside My Love' music video below: