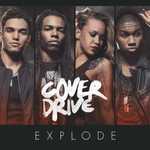 "It's not a science now, it's just the way it goes,"
Cover Drive
's Amanda Reifer insists on the opening of their new single. Truth be told, if we were to predict where the Barbadian four-piece would be exactly a year after debut track 'Lick Ya Down', three top ten singles and a duet with N-Dubz's Dappy wouldn't have been it.
"You spin me all around/ No gravity, no ground," she purrs over bobbing synths and a hip-swivelling, reggae-light melody as she waxes lyrical about her latest crush using every cliché in the book ("My world is your snow globe/ You turn me upside down"). Dappy does his best to match their lyrical nonsense, but if Cover Drive have proven one thing, it's that few can outperform them in the carefree stakes.

Watch Cover Drive's 'Explode' music video below: