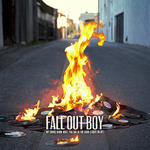 As far as comebacks go,
Fall Out Boy
's is particularly brave. After announcing their hiatus (translation: quietly calling it a day) as the emo-pop punk revolution petered out in 2008, the band blasted back on the scene earlier this week with a new single and album title - the boldly-named
Save Rock and Roll
. Question is, does their comeback track live up to such an audacious billing?
"Be careful making wishes in the dark," singer Patrick Stump insists in his distinctive growl, while echoing chants and adrenaline-fuelled rawk guitars swirl around a chorus that's both radio and stadium-friendly. So far so familiar, but its grounding in a looped riff courtesy of 2Chainz gives it an exciting edge that not only supplies Fall Out Boy renewed energy, but rock and roll a sorely-needed shot in the arm.

Watch the 'My Songs Know What You Did in the Dark (Light Em Up)' video below: