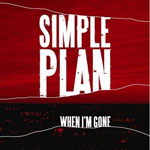 When it comes to musical exports, Canada hasn't always treated us kindly: Celine Dion, Barenaked Ladies and post-Strokes bandwagon-chasers Hot Hot Heat is a list
no
nation should be proud of. It's a relief, therefore, that Montreal's Simple Plan are launching a musical assault on the UK this year. With their take on the 'Dude Rock' genre perfected by Blink 182 at the end of the '90s, they've already registered seven-digit sales figures across the Atlantic.
'When I'm Gone', the calling card for their self-titled third album, has a chorus just begging to soundtrack the latest sub-
American Pie
teen raunch-fest. With some 'woah woahs" so big they could fill a small Eastern European nation and the crunching, robotic production that Danja (Britney's
'Gimme More'
) uses as everyday currency, chart success seems to be in the bag. This grinding rock stomper's only fault? It's perhaps a little
too
perfect. Smoothed and rounded with precision, it's what rock music would sound like if it was created by terribly brainy men in white lab coats. It's got the glorious, self-indulgent, head-banging thrill of all great rock 'n' roll – but without the danger, edge and rude lyrics. It's fantastic fun, therefore, but a bit tricky to love.

> Click here for our recent interview with Simple Plan