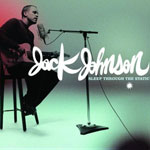 Hawaiian surfing fanatic Jack Hody Johnson isn't the sort of musician who cares about getting pigeon-holed. Since discovering his brand of laid back, sun-drenched acoustic pop was popular with around 15 million people on 2005's
In Between Dreams
, he hasn't tried his hand at a different musical direction or threatened to run a mile; he's simply got his head down and carried on plucking away (calmly) at those guitar strings.
'Hope', the second single from his
Sleep Through The Static
album, finds Johnson at his snoozy-woozy worst. It's the musical equivalent of a giant yawn, with the Hawaiian's mumbled drawl barely registering above the sound of off-key piano tinkles and plodding drums. Johnson's steadfast refusal to move beyond placid crooning and bouncy, chipper melodies might find him a place on the nation's coffee tables next to Lighthouse Family and M People compilations, but since when was that something to brag about?

> Click here for our review of Johnson's Sleep Through The Static album