10
Music The Sound
Girls Aloud: Your questions answered!
Last night two members of the
DS
team ventured to The O2 for the first London date on
Girls Aloud
's 'Out Of Control' tour. However, this was no mere office jolly. Beforehand we'd asked
you
to submit questions about the Girls Aloud live experience, so without further ado here are our findings.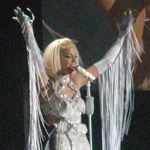 Khairul, Singapore asked: "What are the old songs performed besides 'Call The Shots' and 'Sexy! No No No'?Nick Levine:
"They performed full versions of 'Biology', 'Love Machine', 'Sound Of The Underground', 'Something Kinda Ooooh' and - steel yourselves for a shock - 'Waiting' from the
Chemistry
album. They also performed a special hits medley during the encore."
Mike from Bradford asked: "What songs are in the Girls Aloud medley?"NL:
"Hmm... as I recall it goes 'The Show', 'Wake Me Up', 'Jump', 'No Good Advice', 'Can't Speak French'. You can't go wrong with a lineup like that, can you?"
Christopher from Scotland asked: "What's their cover of 'Womanizer' like?David Balls:
"It was a brave choice to cover that song and they certainly powered through it, but in reality it wasn't as impressive as when they performed their own material. The decision to cover James Morrison's 'Broken Strings' also seemed slightly odd given that they have such a strong back catalogue."
NL:
"I enjoyed 'Womanizer' though it wasn't a highlight, but for me 'Broken Strings' was the only misfire of the night. It seemed to suck the momentum from the set a bit."
Sophie from Leeds asked: "What are the costumes like?"NL:
"Let's just say they showed a lot of leg! Check out our
gallery
for a glimpse at the girls' outfits."
DB:
"There weren't as many costume changes as might have been expected from a girl group - which meant the show wasn't constantly being put on hold while they changed backstage."
Dave from Glasgow asked: "Was there any mention of Cheryl's solo career?NL:
"Not a sausage... it was solidarity in numbers all the way."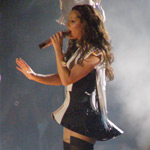 Dave from London asked: "Who got the biggest cheers and who performed best vocally?"NL:
"Well, I don't think it comes as too much of a surprise that Nadine's powerhouse vocals really filled the arena - her signature bit at the start of 'Rolling Back The Rivers' was a particular highlight."
DB:
"It also comes as little surprise that the crowd went wild when Cheryl first came on. Special mention should also be given to La Cole for her impressive vocal performance on the night - maybe those doubting her credentials as a solo artist will think again?"
Vita from South East Suffolk asked: "Does the ginger one have hairy legs?NL:
"Not as hairy as yours."
DB:
"I think with their many millions they should finally be able to afford an epilator. Girls Can't Catch on the other hand..."
Tina from Hong Kong asked: "What's your favourite part of the concert?"NL:
"The girls flying over the audience during 'Untouchable' was pretty special, and the 'Fix Me Up' pole-dancing was ace, but 'Something Kinda Ooooh' was the highlight for me. It's still an absolute banger and the girls' dancing was fantastic! I won't lie, I also got off on seeing the words 'BOOM', 'TUTU' and 'OOH' flash up in massive letters on the screen behind the stage."
DB:
"Their performance of 'Rolling Back The Rivers' was definitely one of the most impressive moments vocally and it was a nice bonding moment for the group. Cheryl and Sarah on 'Fix Me Up' has got to be up there too - particularly Harding's vivacious upside down twirl on the pole."
NL:
"When the unthinkable happens, I'm sure Peter Stringfellow will give her a call."
Callum from Ipswich asked: "Overall do you think the tour is reflective of a band at the peak of their popularity?"NL:
"Actually, yes. It's certainly their most visually impressive show to date and each of the girls turned in a thoroughly assured performance. Plus, I think it takes confidence in your back catalogue to resign some of your biggest hits to a medley."
DB:
"The group seemed very comfortable and confident on stage - but also humbled by the support that they have been given over the years."
RK from Leicester asked: "What did you think of opening act Girls Can't Catch?"DB:
"Tricky one this - although they gave a relatively good performance, their material sounded like the sort of thing we could expect from the next Saturdays album and makes you wonder whether they might be one girl group too far for Fascination."
NL:
"I was really impressed with Phoebe Brown, who used to be in
X Factor
girl group Hope. Her vocals were pretty mighty."
Have you seen Girls Aloud's 'Out Of Control' tour? What did you think? Use the space below to leave your comments.