Make sure you're sitting comfortably before we crack on chartanatics, because there's a fair bit to get through today.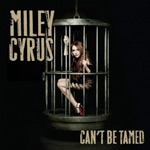 B.o.B.'s still fending off Dizzee and Jason Derulo at the top, but David Guetta's 'Gettin' Over' You' is now looming right behind them.
Alicia Keys' 'Broken Heart' is now right at the edge of the top ten, while Ke$ha's 'Your Love Is My Drug' has cracked the top 15.
However, Rihanna's 'Te Amo' has actually dropped a couple of spots since Sunday.
There's better news for Miley, who's roared into the top 25 with 'Can't Be Tamed' since yesterday.
Both Glee Does GaGa tracks are now inside the top 40 - 'Poker Face' is a shade outside the top 25, while 'Bad Romance is' a couple of places inside the top 40.
Lady GaGa's 'Alejandro' has climbed into the top 30, but sadly there's still no sign of Alphabeat's 'DJ' anywhere in the top 40.
Michael Bublé remains ahead of Pendulum and Jack Johnson at the top of the albums chart, while GaGa's The Fame has bounced back into the top five.
That's your lot for today, but if you've got any requests for the Friday update, well, you know the drill and you know it well.