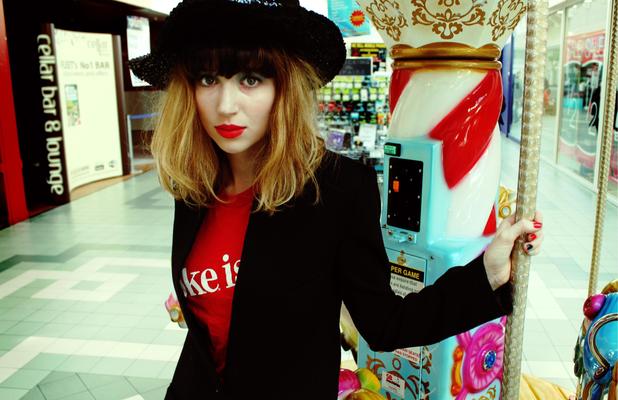 Say hello to Hannah Clark (aka
FOE
) - a 21-year-old pop-grunge obsessive whose style is described as "funeral glamour".
After spending her teenage years locked away writing songs and designing her own artwork and fanzines, she was eventually picked up by a label after posting her work online.
With her debut album
Bad Dream Hotline
- inspired by the likes of Nirvana, PJ Harvey and Sonic Youth - out next month, we called her up to find out what else she has planned for 2012.
How's your week been?
"I did my first video shoot on Monday, which was quite an experience. It's for the next single 'Cold Hard Rock'."
Do you perform any stunts in it?
"Kind of! We did this bit in a freezing swimming pool - I didn't last very long. I was also on a treadmill for a lot of the video. My body was killing me the next day! Hopefully that footage will make it in. I find it really hard staying under water so I probably look a bit scared."
You've been quite busy of late; what was a normal week like before you signed a record deal?
"Things are definitely getting busier at the moment. Normally I would just be at home writing and doing artwork. I tend to stay in my flat in Hampshire most of the time. Now I have to be in London a lot, which is good, but I prefer being locked away!"
Listen to 'Cold Hard Rock' below:
Your press release describes you as someone who is not a "people person"; how do you feel about the prospect of moving to London?
"I know! I think that's why I've put off moving to London for so long. It costs £30 on the train everyday, so it's getting quite expensive. The trains are outrageous."
Have you always preferred hiding away?
"I guess so. It's not that I'm unfriendly, I just prefer being in my own comapny. I was like that at school too. I preferred writing music to having friends. Maybe it was that I didn't like school in the first place."
Being in the music industry obviously conflicts with that...
"I've always known that I wanted to write music. I finished college a few years ago and I wasn't sure what to do, so I kept writing and got lucky that my work was picked up online. I was worried about getting involved in the industry as I didn't want it to kill music for me. It was also an opportunity that I couldn't turn down - I'm very appreciative for what's happened to me in the last few months."
You're signed to Vertigo at Mercury Records; have you had to make many compromises with your music?
"I've been very lucky that the label has allowed me to get on with the album that I've written and do it by myself. I've had to make very few compromises - they seem to be happy with how I'm doing things and they didn't really want to change it."
Your debut album is called Bad Dream Hotline; how would you describe it?
"My songs are quite personal to me in a way, but some of the music is quite intense, grungy but also quite poppy. A good melody is important to me. It's a combination of my influences - I love Nirvana, PJ Harvey and Sonic Youth - but I've always had the idea of writing a melodic song that people can follow. Hopefully it's a mix of the two."
What's your favourite track on the album?
"The album is a lot more varied - the stuff I've released so far is quite hard and loud. There's a ballad on the album that I'm very happy with called 'Dance and Weep'. It's more of an overview of my writing styles."
Your live shows have been described as a "twisted prospect" - what does that mean?
"I quite like dressing up and wearing wigs on stage. I guess it's quite chaotic too. I like the idea of it being its own thing away from the album. It's more of a show than the album."
Are you keen for chart success?
"Yes and no. I feel quite sad listening to a lot of the charts. Hopefully people who appreciate music will look past that and delve into other things. It doesn't concern me for my own success - it would be weird for my songs to be played alongside some of what's out there. I guess I'll play it be ear and see what happens!"
FOE's debut album Bad Dream Hotline is out on January 16.