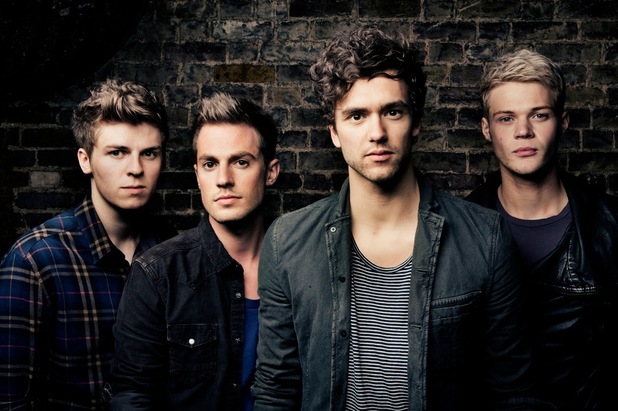 Say hello to Andy, Adam, Ryan and Joel, who make up relatively new band
Lawson
.
We say relatively, as they actually formed in 2009 and have been steadily building a sizeable fanbase by posting songs on YouTube and supporting the likes of The Wanted, Will Young and Avril Lavigne on tour.
They recently finished their own headline jaunt, which Ryan describes as "an experiment to see if we could sell out venues. The response was a lot better than we thought it would be! It's been incredible so far."
They're also supporting The Wanted again on their arena tour, which kicks off today. "They're really good friends of ours now. It's going to be more like a lads holiday than work," Andy admits. Joel adds: "We feel ready for those bigger venues now, Wembley is somewhere we've always dreamed of playing."
But what do they sound like? Ryan describes it as "big guitars, big drums and heartfelt lyrics. It's music that's made for big venues. There aren't many bands like us out there at the moment, we think there's space for us in the charts."
Listen to their track 'Standing in the Dark' below:
In many ways we think they're right, as the last good all-male pop guitar band we can remember is Rooster, who disappeared off the face of the Earth in 2007.
Lawson have been working in Los Angeles with producer John Shanks (Take That, Michelle Branch) on their debut album, which is due out later this year. "He's an incredible guitarist, he has a warehouse full of them," Joel says. "LA was just like the films though, except when I got mugged for a bottle of water! The people were a bit crazy."
Their cover of Lady GaGa's 'Marry The Night', which they describe as "a bit more bluesy and stripped back", has been getting a fair amount of attention online. "It was also her new single at the time, so we thought they'd be some hype around it," they say. At least they're honest about it, right?
Listen to their rendition of 'Marry The Night' below:
Lawson release their debut single in May. Their album follows later in the summer. Find out more at
www.facebook.com/lawsonofficial
.
Are you a fan of Lawson? Leave your comments in the box below: