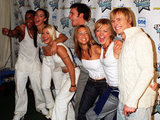 Fans of early noughties pop will no doubt be excited by reports that
S Club 7 will reform for a series of gigs and new album
later this year.
But is it a good idea? It's a move that has worked for Steps, who spearheaded the cheesy pop revival last year by topping the chart with a greatest hits and selling out a string of arena dates, but will the public fall for it second time out?
S Club 7
- who went on to be known as S Club after the departure of Paul Cattermole - released four albums between 1999 and 2002 and shifted an impressive 17 million records. Should they leave their legacy to rest or risk tarnishing the memory with a tour and possibly new material ten years on?
In our opinion, if they can recreate the likes of this:
This:
This:
And this:
...then we're all for it.
Is the S Club 7 reunion a good idea? Vote in our poll below: