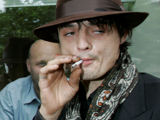 The Sound
squeezed into our skinniest jeans, ruffled our fringe and polished up our freshest set of brogues for the NME Awards launch party last night. The shindig was thrown to celebrate the fact that you - yes,
you!
- can now vote on your fave bands, singers, tunes and everything else music-related from the past year.
The shortlist for the awards, which will be drawn up based on your votes, will be announced on January 28, with the winners being crowned at the annual booze and brawl fest on February 28. There are two new categories this year - for Best Band Blog and Best Music Blog. We wouldn't want to sway your votes at all, but we think we know who'll you choose for the latter. *cough* US! *cough*
But what of the party, we hear you cry! Well, there was a disappointingly low celeb count, with that bloke from E4 with funny hair being the best we could spot. However, it wasn't just an evening for schmoozing, because, being the
NME
, someone had decided to lay on a bit of music. Surprisingly, it came courtesy of Joe Lean and The Jing Jang Jong, Scouse pop-rockers The Wombats and Babyshambles (sort of).
Joe Lean and his crew looked very grumpy (like The Strokes used to before they started to get drunk at every gig) and played the one song of theirs we know - the one about some chap starting fires. They were alright. Babyshambles, as you've probably
already heard
, provided the 'drama' for the evening. Pete was "unwell" so we were treated to a hotch-potch version of the band, with Drew and Adam trying manfully to cope without the big P on vocals. Worryingly for Pete, the audience member the pair dragged on stage to sing along with them had vocal and guitar skills that put his mumbled, half-arsed attempts to shame. You'd better pull your socks up, Pete, there's a new cowboy in town.
But amidst the shambles of Babyshambles (see what we did there) and the bleh-predictability of the JingJangwhatshisface, there was a shining light. It came courtesy of those cheeky Liverpudlian riff-meisters The Wombats, and thanks to Mr Doherty's no show, we were given an extra half hour of the sugar-coated, wonky dance-inducing hits from their
Guide To Love, Loss And Desperation
album.
Before they went on stage, the band told us that their New Year's resolution is to give up crap white bread, cigarettes and farting in public. That last one's probably for the best - drummer Dan Haggis spent the interview breaking wind onto the face of lead singer Matt Murphy. We were also instructed to advertise the fact that their Norwegian-born bassist is single and looking for love. Go and get him girls! We'll have a full interview with the band very soon, featuring tales of sharing Jacuzzis and simulating homosexual intercourse with members of The Enemy. Honestly, we're not making this stuff up!
Meanwhile, feel free to drop your comments about anything Wombat, Pete D, or even Joe Lean below.