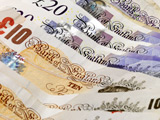 The Bank of England has not changed its locks in over 70 years, a report claims today.
According to the
Daily Express
, bosses made the confession after receiving enquiries from the Master Locksmiths Association.
It is believed that the bank fitted new locks on its main doors and safe during a refurbishment in the 1930s, but has not done so since. There have been no robberies at the London building during this time.
The MLA wanted to know about the bank's security measures as part of a new campaign which encourages homeowners to regularly change their locks.
The association has claimed that homes and businesses need to fit new locks "from time to time" to avoid losing track of keys.
A spokesman said that the Bank of England may not be at risk of a robbery, but "other properties might be".