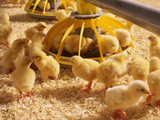 The chicken sexing industry in Japan has gone into decline as fewer young people seek to join the profession, it has been claimed.
According to
Reuters
, Japanese chicken sexers traditionally attracted international demand for their skills, with the best able to manually sort 8,000 chicks per day by sex with 99.7% accuracy.
Chicken sexing is key to the farming industry as females are retained to lay eggs and males used for meat production.
Atsushi Nodera from Japan Livestock Technology Association said: "I just got two emails from Denmark and Hungary asking to send over Japanese experts but I have nobody at hand.
"Young people now want a degree and to become a doctor. The effect is that we have plenty of jobless doctors and no one to carry on our profession."
Furthermore, the selective breeding of female birds with longer feathers for easier identification has also reduced the need for "vent" or "cloaca" sexing, which was invented in 1933.
Japan once had around 1,000 chicken sexers earning around ¥1.26m (£9,700) a month, but this number has reportedly now fallen to a few hundred.