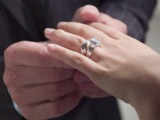 A Taiwanese office worker has reportedly decided to marry herself.
According to
Reuters
, Chen Wei-yh from Taipei has come under social pressure to wed but has also been unimpressed with the men she has met.
Chen said: "Age 30 is a prime period for me. My work and experience are in good shape, but I haven't found a partner, so what can I do?
"I'm not anti-marriage. I just hope that I can express a different idea within the bounds of a tradition."
Chen has hired a wedding planner and hall and will attend a reception with 30 guests next month. She added that her mother has accepted her plans for a solo marriage after first insisting that she find a groom.
In Chris Morris's 2000 comedy series
Jam
, David Cann played a man who decided to "do it alone" and marry himself after he realised that he "wasn't going to get a wife".