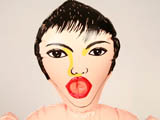 A sex shop in Alabama has announced a Valentine's Day offer to swap guns for sex toys.
One customer at Pleasures exchanged his Iver Johnson revolver for a $40 gift certificate on Tuesday morning,
AFP
reports.
Shop owner Sherri Williams said: "In today's economy, this is a way of helping people who may feel they can't afford something for Valentine's Day.
"This way, they can take something that's just lying around and swap it for something they can take home and make love, not war, with."
She added: "I'm also in it to get guns off the street - to take them out of the hands of people who would potentially do harm with them, and put them in the hands of collectors.
"You never know, maybe there will be someone who says, 'I've got this gun that I could go rob a liquor store with, or maybe I can get me a blow-up doll for Valentine's Day instead'."
Guns given to the store are inspected by Williams's husband, gun dealer David Smith, but she insisted that she is not looking to profit from the arrangement.
Stolen weapons or those used for crime are handed over to police. The rest are auctioned off and proceeds are donated to victims of gun violence.
The offer is valid for one week until February 15.