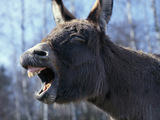 An animal sanctuary has decided to pay tribute to this weekend's royal wedding by naming a donkey after HRH
Prince William
.
According to
MSN News
, the Donkey Sanctuary decided to name a newly-arrived donkey foal Prince William out of respect to the royal heir's wedding to Kate Middleton yesterday.
"It's a really honour to have Prince William with us, and I can't think of a better name for him, thus to mark the occasion of the royal wedding," the sanctuary's founder Elisabeth Svendsen said of their name choice.
The foal in question arrived at the sanctuary in Sidmouth, Devon earlier this month after his mother was unable to adequately care for him.
The Donkey Sanctuary are not alone in their royal tribute, as a zoo in Rio de Janeiro recently
named two tigers after the newly-married couple
.
> Prince William, Kate Middleton postpone honeymoon
> 26 million watch royal wedding in UK
> Lily Allen, Miley Cyrus react to royal wedding
> Gallery: Royal wedding family portraits
> Photo highlights: The royal wedding
> Video highlights: The royal wedding
> Prince William 'joked with Kate's dad at altar'
> Read our full royal wedding coverage