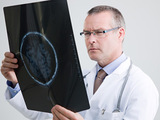 A 24-year-old woman has revealed how a rare disorder causes her to black out and collapse from laughter.
Claire Scott explained to the
Daily Mail
that she was diagnosed with Cataplexy last year. The disorder means that a surge of emotion can cause her muscles to weaken, leading to the black-out.
Scott, who has two children - Ebony, 5, and Cameron, 18 months - has suffered from the attacks, which can last from just seconds to several minutes, since she was a small child.
"Sometimes I am aware before it happens, other times I don't have any idea. I completely black out and I'm left paralysed," she said. "The last time it happened was the other week. My little girl told me a joke she'd made up at school. It didn't even make sense and it wasn't funny but I burst out laughing. The next thing I knew my husband was picking me up off the kitchen floor.
"Once, I collapsed while walking through the middle of a high street. People do look at you strangely when it happens. It's really embarrassing."
Doctors believed the problem could be caused by an issue with her heart, but discovered no trouble after she was fitted with a pacemaker for a year.
Diagnosis of the disorder came about following the birth of their second child Cameron, when Scott was referred to see a neurologist, who prescribed a type of antidepressant which has reduced the frequency of the attacks.
"I feel a lot more confident now and I can take the children out on my own. I've also got my licence back so I've started taking driving lessons again," she added.
> Take a look at more stories from the odd section