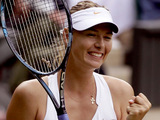 The BBC has launched Wimbledon NetMix, a player which lets the user tweak the volume mix during tennis matches.
The service is currently restricted to those watching the Grand Slam tournament on the internet and is only available for Centre Court matches due to "technical reasons".
With NetMix, the overall sound from the court, including crowd noise and grunting from the players, can be lowered in favour of the commentary, and vice versa.
The BBC said on its website: "One of the biggest audio challenges for broadcasters covering sports events is knowing how much of the 'roar of the crowd' to include along with the commentary.
"This experiment lets you mix the sound the way you want it. [With] our player, you can adjust the commentary level relative to the sound of the court: the crowd, base-line grunting and ball."
Rupert Brun of the BBC's audio department explained: "When you move the slider towards 'court', the commentary gets quieter while the court atmosphere stays the same. Conversely, if you move the slider towards 'commentary', the court sound gets quieter while the commentary stays the same."
Tennis players such as Maria Sharapova and Victoria Azarenka have been known to reach around 100 decibels with their grunting. While Azarenka exited this year's Wimbledon Ladies' Singles at the semi-final stage, Sharapova will play in Saturday's final on Centre Court.
More Wimbledon-related headlines:
> Boris Becker mistakes Noel Fielding for woman at Wimbledon
> Novak Djokovic interview crashed by Caroline Wozniacki
> Wimbledon rematch for John Isner, Nicolas Mahut