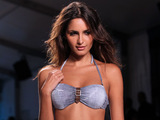 A group of women in Australia have broken the record for the biggest ever bikini parade.
A total of 357 bikini-clad women took part in the event in Gold Coast, Queensland, parading from Cavill Avenue to the beach in Surfers Paradise.
The feat was recognised by the Guinness World Records, reports the
Herald Sun
.
A Surfers Paradise councillor said: "We have beautiful beaches... we've got a great foreshore, healthy young women and a sense of fun."
Although 361 women participated in the parade, four were disqualified for overdressing.
The previous record was set in 2010 in the Cayman Islands by 331 people.
> Women's football team to play in bikinis
> Solar-powered bikini charges iPods